How To Renew A Us Passport
How to Renew a US Passport
Renewing your existing US passport is typically a straighforward process, even if your prior passport has expired. If you plan far enough ahead (8 weeks or so), you can even complete the entire renewal application by mail. Mailed applications, even expedited, may take up to 45 days for processing, which means mailing early is critical when planning overseas travel.
With expedited service and a visit to the nearest regional processing center, you might have your renewed passport in hand in about four weeks. For those who can't make it to a regional passport center or who have difficulty meeting appointment times, a courier service like Passports and Visas.com is an option to keep your application moving quickly.
The Passport Renewal Process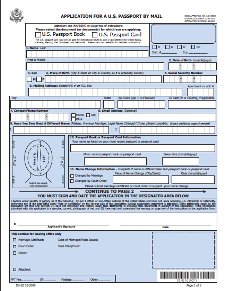 The first step to renewing your passport is filling out a copy of form DS-82, the renewal application. Once you have the form filled out, locate your old passport and include it with the application. As long as your passport is in good condition and you meet the eligibility criteria, your old passport is all the documentation you need to apply for a new and current version unless you've changed your legal name.
Am I Eligible to Renew a Passport?
Before completing a passport form DS-82, take a moment to check that your existing passport is:
Less than 15 years old
An adult passport issued after you turned 16 years old
In good condition with no significant damage
Issued in your current legal name or you have documentation to show your name change
As long as you meet all of these eligibility criteria, you can use the DS-82 passport renewal application.
Where to Get the DS-82 Form
Renewal applications are available online. You can print out a copy and fill it in using black ink. Be sure to print clearly when filling out the form to avoid printing errors. Any errors on your passport might mean you need to apply for a corrected version. While there is no charge for correcting a passport, it can add delays that may affect your travel plans.
If you fill out the application online using the interactive form, you will still need to print out the copy and sign it. The only ways to submit a passport application are through the mail or in-person at a regional center.
Filling Out the Application
The passport renewal application is a total of six pages long. On the first page is a quick checklist to determine eligibility. The first four pages contain instructions and information about the application process. The last two pages must be filled out and mailed back along with any fees due and an updated passport picture. The application typically takes less than 40 minutes to complete.
Where to Mail Your Application
Where you live determines where you should mail your application. Residents in California, New York, Florida, Illinois, Minnesota or Texas should send applications to:
National Passport Processing Center
P.O. Box 640155
Irving, TX 75064-0155
For residents of any other state or Canada, use:
National Passport Processing Center
P.O. Box 90155
Philadelphia, PA 19190-0155
For Faster Passport Renewal Service
If your travel plans have a departure date within the next 45 days, you need faster than normal processing for your passport. For an extra $60 you can pay for expedited service that means your application will be completed within three weeks. Pay for one-day shipping and you could still complete the process by mail.
If you plan to do an expedited passport by mail, applications should be sent to:
National Passport Processing Center
P.O. Box 90955
Philadelphia, PA 19190-0955
If you have less than 45 days until you depart, you'll need to either visit a local passport office to expedite your service or use a third-party passport expediting service to handle the in-person rush order. If you have time and can make an appointment to your local passport office, you might complete your application in a single day and walk out with your new passport in hand. Generally, in-person expedited passports are available within 5 days, depending on your departure date.
Finding a Regional Passport Agency
There are 26 regional passport agency locations nationwide. There is no walk-in service at passport agencies, so you will need to make an appointment in advance. Since large, densely populated states like Texas and California have more than one location, that leaves many states without a local office. If the nearest office is not within easy driving distance, you might want to work with a third-party company to expedite your passport.
Another reason to consider a third-party service is the lack of available appointments. If your local office can't accommodate your schedule, you might need some assistance to meet your travel deadlines.
When working with a third-party company, you send all of your documentation to the rush service, and they handle the rest. The process is fairly straightforward. Simply:
Take your completed application and documents to a local passport acceptance location like a post office
Have them seal the package for delivery
Turn over the sealed passport application to your expediting service
A courier drops off the application and picks up the new passport, often within 24-hours
There is an additional fee when working with a third-party company, on top of the issue and expedite fees charged by the state department. However, after looking at the cost of travel and missed time from work, those fees are surprisingly affordable. When you need a passport fast, a rush service might be the most affordable and effective option. In many cases, you will have your new passport and be ready to travel within a day or two.
Do you need a Passport inside 8 weeks?
Passports and Visas.com will help you with your passport needs It's easy, painless and fast.
Do you need a Passport or Travel Visa for your upcoming trip?
Answer two questions and we'll show you if you need a travel visa or passport for your upcoming trip